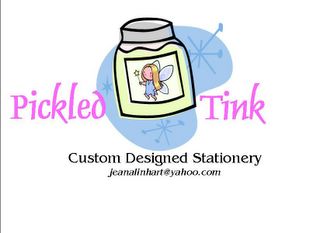 In an effort to help our family financially, I'm starting my own business! It's in the seedling stage right now, but I'm still really excited about it. This is my logo. I chose the name
Pickled Tink
because I have always enjoyed
spoonerisms
. Spoonerisms are words or phrases with the beginning sounds transposed (eg. "take a shower" spoonerized is "shake a tower"). To be
tickled pink
is to be greatly amused. The thought of Tinkerbell in a pickle jar greatly amuses me (similar to wondering if Girl Scout cookies are made out of real Girl Scouts). Thus,
Pickled Tink
! So far, my products include notecards, journals, and magnets. These are all custom designed and handmade by yours truly. I hope to have a website and business email address soon. But for now, I'm taking orders via
email
. You can see my latest journal design
here
.